Practice Smart Diversification
Holding securities across many market segments can help manage overall risk. But diversifying within your home market may not be enough. Global diversification can broaden your investment universe. As an Austin, TX financial advisor, it's important to practice smart diversification.
6. Practice Smart Diversification
Many people concentrate their investments in their home stock market. They might consider their portfolio diversified when they choose a large group of US stocks or US mutual funds. In some cases, they may hold a small group of US securities. In some cases, they only hold a small group of securities.
Yet, from a global perspective, limiting one's investment universe to a handful of stocks, or even one stock market, is a concentrated strategy with possible risk and return implications.
Exhibit 1: Home Market Index vs. Global Market Index Portfolio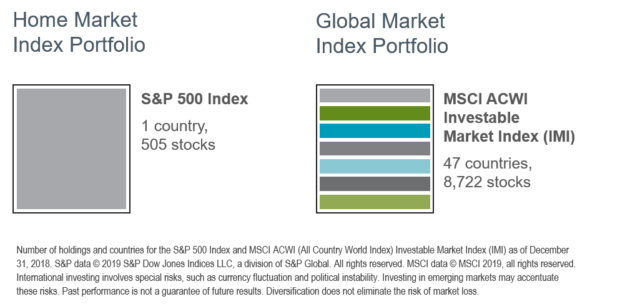 The image above offers a conceptual comparison of investing only in the US market, as represented by the S&P 500 Index, and structuring a globally diversified portfolio that holds assets in markets around the world, as represented by the MSCI All Country World Index (IMI). For the global portfolio, holding thousands of stocks across the world's developed and emerging market countries broadens one's investment universe.
A diversified portfolio should be structured to hold multiple asset classes that represent different market areas across the world.
The US represents approximately 52% of total world market cap. A Vanguard study named The global case for strategic asset allocation and an examination of home bias shows US investors hold 79% of their equity holdings in US markets. When striving for a diversified portfolio, do not make the mistake of investing in only US equity markets.
Exhibit 2: World Equity Market Capitalization
This is part six of a ten part series in pursuing a better investment experience.
Part One: Embrace Market Pricing
Part Two: Outguessing the Market – Don't Do It!
Part Three: Past Performance – Don't Chase It!
Part Four: Let Markets Work for You
Part Five: Consider the Drivers of Expected Returns
Part Seven: Marketing Timing – Avoid It!
Part Eight: Separate Emotions From Investing
Part Nine: Look Beyond Investment Headlines
Part Ten: Control Your Investment Focus
For More:
Learn more about investment management services
What is a fiduciary financial advisor?
Forbes: Why Global Diversification Is Still A Safe Bet For Your Investment Portfolio
Austin TX Financial Advisor
Still have questions in how to pursue a better financial planning and investment experience? Meet with an Austin TX financial advisor.
Safe Landing Financial is a Los Angeles, CA fee-only financial advisor providing financial planning, retirement planning and investment management to tech professionals and pre-retirees. When you work with Safe Landing Financial, you work with Brian Fry, a fiduciary and CERTIFIED FINANCIAL PLANNER™ that puts clients' best interests first. Financial planning services include: retirement planning, charitable giving, asset protection, estate planning, saving for college, debt management, tax strategy and investment management. Safe Landing Financial serves as a virtual fee-only financial advisor to individuals and families nationwide.